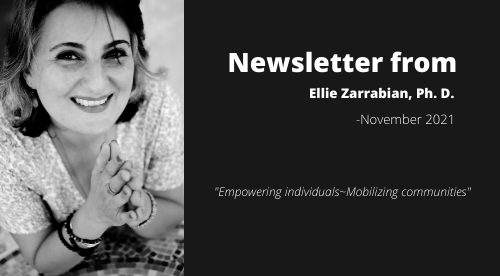 Dear conscious community,
It's been quite a whirlwind of a year and a half. Above and beyond anything of material consequence, I hope you and your loved ones are in good health.
I have been physically well, but preoccupied with helping individuals stay on track and find ways to cope – and even become more resilient – through the pandemic. I'm glad to say that most of my clients have been doing well, and I've even had clients get married and have children during this period. It shows you that even during the most trying times, life goes on and joy is still there to be experienced.
During this pandemic we have all been tested in various ways and to various degrees. Many of us have been afforded the opportunity to find new ways of thinking, feeling, and behaving. I believe, for those of us trying to live a more conscious life, we have felt this opportunity to be necessary, and even overdue.
I want to update you on some of the changes and upcoming events with Centerpeace. First, I have gone completely virtual. I gave up both offices in Los Angeles and San Francisco and now I'm fully online. Of course, there are pluses and minuses with both modalities, but for now I'm available online pretty much round the clock.
Another change is my new website that I have put together. It shows some of the changes in myself as a healer and in the work I'm doing in the world. When you get a chance, please take a look at the new Centerpeace Foundation website. www.centeronpeace.com.
There is also a wonderful new addition to my team. Rosie, is my new virtual assistant and she is going to be helping me with all the online work and much needed organization now that I'm 100% virtual.
Alongside my individual and couples counseling sessions, I'm also co-writing an ebook on love and facilitating discussions on Facebook with friends around the corner and around the world. The ebook should be completed within a month or so. I will notify you once it's ready to download. The title is "Dr Ellie's Book of Love; Notes From the Pandemic." There, I share some of my wisdom gained from my own lived experience through wartime and talk about how it helped people through the pandemic and now, the aftermath.
Finally, I'm planning on putting together an online group for either adults or for parents (moms, dads or both) with their teenage son or daughter. I see many children are having a hard time and not much support is available to families. I think it will be wonderful to start a spiritually integrated online support group. If you are interested in such a group let me know by replying to this email.
Other than that, it's important to stay mindful that what we're going through socially, politically, climate, and health-wise is not limited to only the United States, but around the world. If anything, our challenges have brought us closer together as a global human family. (I have seen this in my own work; roughly half of my clients now are international.)
People continue to have a difficult time – and, as much as I'd like to stay optimistic, I think there are more difficult times ahead of us. Please take good care of yourself and your loved ones, and don't hesitate to reach out if you need some support along the way.
With blessings and in good health,
Dr. Ellie