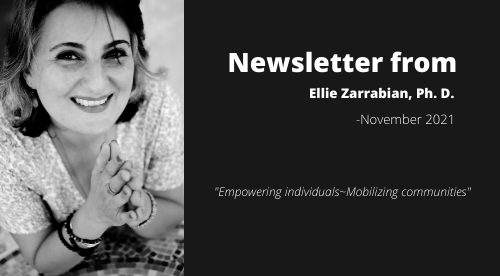 Dear conscious community,
Happy and healthy holiday season.
As promised, I have completed writing my e-book. It's called Dr. Ellie's Book of Love: Notes from the Pandemic. The "Book of Love" is planned to be a large project; this e-book is the first of what may be several components to it.
The e-book is now ready for you to read; please send me your feedback. I spent much of my time this fall on it. (And my emotional energy; this is the first time I have shared so much of my own background, as well as my work, with the world at large.)
My hope is that reading it will leave you with a better understanding of the challenges we are all facing, but also motivated and energized as to your own contribution going forward.
I wrote the e-book with the intention of wanting to share a few lessons that may help you navigate the world in the year ahead. As you see, we are not done with the pandemic, and our world is still teetering, in a place of chaos and uncertainty. It is my hope that with the challenges that lie ahead of us, the ebook will give you a more positive and empowering direction on how you can address some of these concerns as they arise in your own life.
Also, as my holiday gift, I would like to offer a free webinar to you and your co-workers or your company in regards to addressing the following topics for the upcoming year. 1) Where are we headed in 2022, observations from Dr. Ellie; 2) How to better manage work/life balance, given that people do not have a clear direction in working remotely or in person; and 3) how to manage relationships at home and work that foster a sense of community and camaraderie at a time when people are so stressed.
If you are interested in talking to me further about a possible date for a webinar session, feel free to contact me directly.
In the meantime, here is the link to the e-book; I hope you enjoy it. https://centeronpeace.com/
With love and blessings,
Dr. Ellie