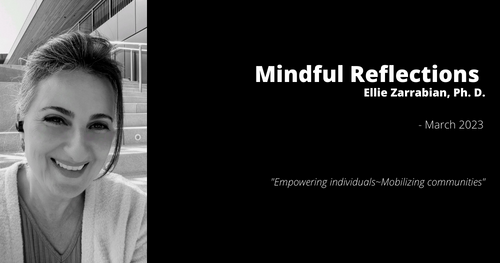 Dear Conscious Community,
With the passage of time and with most people coming out of lock down, life gets busier and busier and we are back to a task- ridden life. But we are facing new challenges in life. The extreme weather conditions are one such challenge that isn't going away anytime soon. My hope is that you will continue to foster ways to practice self- care and spend quality time with yourself and loved ones.
One way to spend quality time with yourself is to take time away and be alone in nature. Research shows that spending time in nature can result in the following benefits:
Improved short-term memory – Participants in a study who took a walk amongst trees performed 20% better in a memory test than those who walked down a city street.
Restored mental energy – Research has shown that merely looking at pictures of nature can restore energy lost through mental fatigue.
Reduced stress – Several studies have indicated that spending time in nature can lower our heart rate and reduce our levels of the stress-related hormone cortisol.
Improved vision – There is a large body of evidence showing that outdoor activity helps to protect children's eyes and reduce their risk of developing myopia (short-sightedness).
Improved creativity – Participants in a study who were immersed in nature for four days improved their performance on a creative problem- solving test by 50%.
Resistance to cancer – While more research is needed in this area, some studies have shown that spending time in nature stimulates the production of anti-cancer proteins in the body.
Boosted immune system – Studies indicated that exposure to forest environments benefits the human immune function.
Lower blood pressure – Research has shown that exposure to the ultraviolet (UV) rays found in sunlight releases a compound called nitric oxide, which lowers blood pressure.
Activation of Vitamin D – Sunlight on the skin also activates Vitamin D, which our bodies need to help prevent osteoporosis and cancer.
Greater longevity – Demographic and geographical studies show there is a strong association between access to nature and living a longer, healthier life.
For most people, it does not take much to access nature. I remember, growing up in my native country, it was very hard to find nature given that we lived in a very metropolitan city. Having access to nature meant driving for hours to go out of town. But I was able to find peace, tranquility and closeness by being near trees.
There was a particular cherry tree in my grandmother's small backyard and I used to spend hours playing around that tree, climbing it, eating its fruits and even talking to it.
As a suggestion, go out to nature this coming weekend. Spend some time calming down your nervous system by not talking or being busy with your phone or any other device. See if you can just "be" with nature without doing anything of consequence. Then when you return back home notice how you feel.
Feel free to share your story of your nature day out. I always find such stories calming and inspirational to read.
With blessings,
Dr. Ellie
For more reading on reasons why spending time in nature is important here is the link.